Elle Aesthetics provides an innovative, surgery-free approach to hair loss that works long-term.
We will work together to help you gain a better understanding of hair regeneration and which options are right for you.
Medical Aesthetics has changed the way we think about hair loss, making invasive and expensive surgeries a thing of the past. Make us your first-step in hair regeneration to find the easiest, most effective path back to confidence.

Platelet Rich Plasma (PRP)
PRP + Stem Cell Treatment
Plasma contains platelets and white blood cells — known as liquid gold by aestheticians for its powerful regenerative properties. By injecting this into the scalp at the level of the hair follicles, new growth will be stimulated. Most patients see results within 4-6 weeks after their first treatment
PRP has been successfully used in the medical field for dermatological applications for years We're excited to bring this regenerative process to hair loss. PRP is a great place to start gaining your confidence back with no-downtime, long-term results, and little to no risk.
The Procedure
We start the process by collecting a blood sample. Then, we'll separate out the plasma from the red blood cells. We then prepare the injections, which are small and minimally invasive. The plasma is injected across the scalp at approximately every half inch over the area of thinning hair.
PRP treatments are an easy and approachable option for hair regeneration. Most patients get the injections without numbing, but ice packs can be used to minimize pain. Typically, the entire procedure takes less than a half hour. The recovery is minimal, although some patients experience tenderness that subsides in just a few days post procedure. Our treatment is completed in three different sessions.
The Results
In the first few weeks, most patients report decreased hair shedding. This is followed by hair growing longer as well as the regrowth of new hairs. With our PRP treatment, you can the results you're looking for — but more importantly, get back to feeling like yourself. This is a great option for women, as well as men experiencing early hair loss.
PRP is low-risk, no-downtime, and lasts long-term. Elle Aesthetics is excited to bring this regenerative process to hair loss.
Check out our before/afters below to see how PRP can work for you.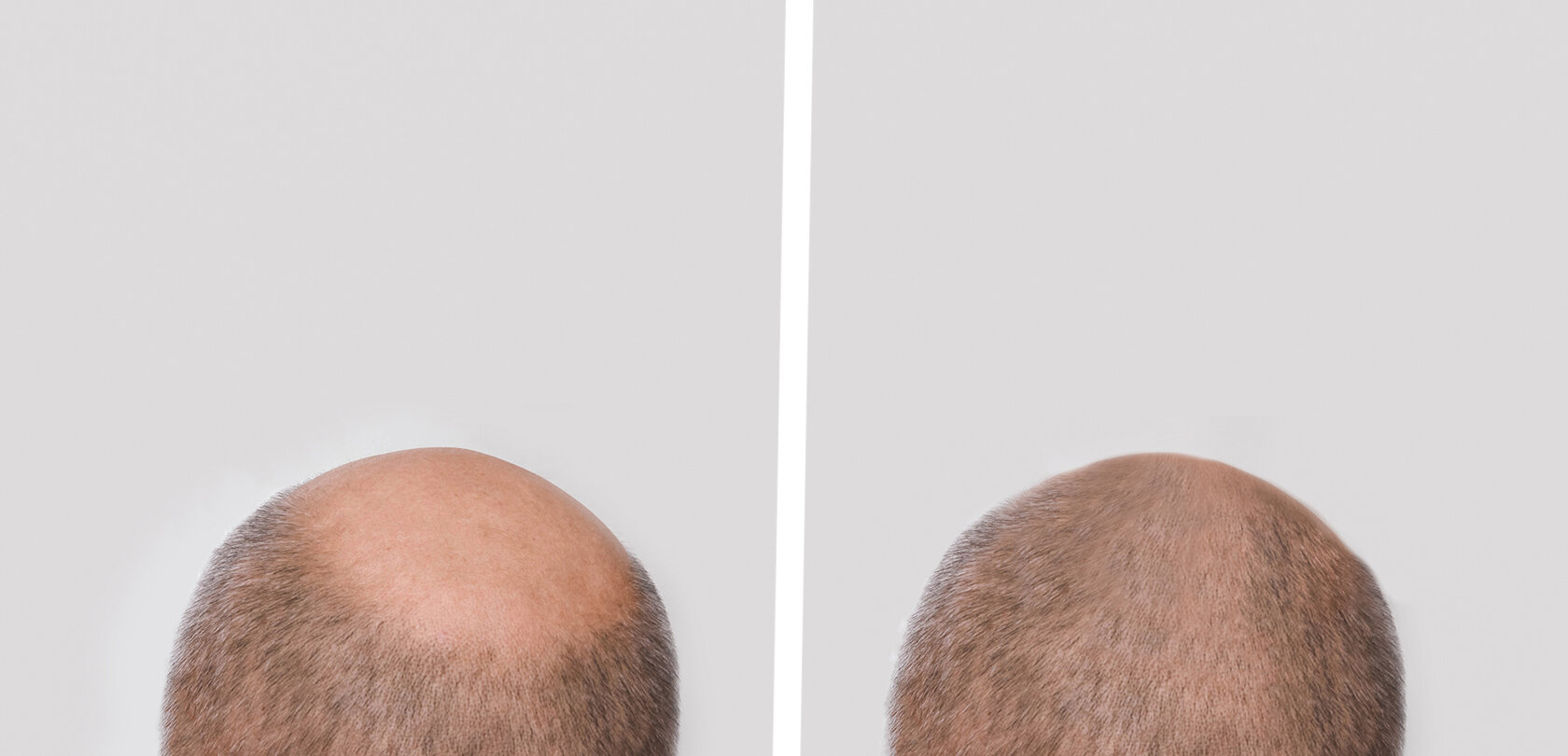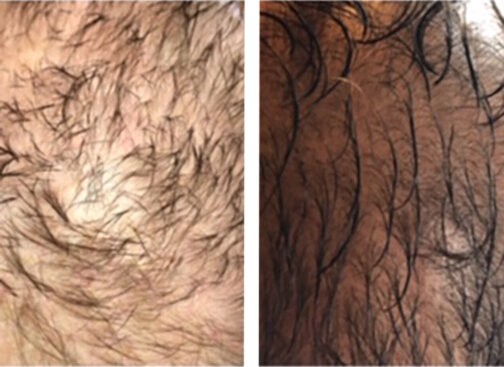 While PRP works well to increase hair growth and thickness, stem cells are a complete game-changer. These cells can actually stimulate new blood vessel growth to provide the nutrients that hair follicles need for sustained regrowth.
Stem Cell treatment is cost-effective compared to intensive hair transplant surgery. Rather than trying to replace what you've lost, stem cells work to turn back on your natural hair growth. This isn't restoration. It's regeneration.
The Procedure
Stem cells come in different forms, but we've found that exosomes are the most comfortable and effective for hair regeneration. These are not living cells, but extracellular vesicles that rebuild tissues and stimulate indigenous stem cells to start working how they're supposed to. Exosomes are loaded with a wide variety of specialized proteins and peptides that influence cell communication, differentiation and regeneration.
We inject these exosomes at the level of follicles to jumpstart hair regrowth. The treatment is comfortable, with numbing options available. Unlike surgery, there is no downtime!

Our treatment is completed in three different sessions:
Session One: Single round of PRP

Session Two: Stem Cell treatment with PRP

Session Three: Final round of PRP
Quality & Integrity
We work with Stemell, an FDA-approved stem cell provider. Every supply we receive is microbiology tested and registered with the FDA, Tissue Bank and NIH & FWA. Stemell operates a certified Class 100 Clean Room and follow GMP, GLP & GTP good manufacturing processes.
StemL X-Plus (Highly Purified Exosomes) are extracellular vesicles loaded with MRNA, MiRNA, and a wide variety of specialized proteins (growth factors and cytokines) and peptides that influence cell communication, differentiation and regeneration. Stemell's highly purified Exosome's come from an uncultured source that does not incorporate a serum for growth. Unlike other exosome products, StemL X-Plus is not a cultured product but rather is purified directly from Umbilical Cord Blood plasma. Therefore, it is free of zoonotic serums and the related concerns regarding DNA mutations as the cells go through each cultured pass, this is referred to as a single donor propagation. Stemell uses a sophisticated biopolymer filtration process that yields the cleanest and purest exosome product on the market today, all unwanted proteins are cleaned and completely filtered out.
Results
Most patients see noticeable results within the first month, and many reach full regrowth after six months. View our gallery of before/afters to see how our treatment can give you your hair back.
Learn about our package options below or schedule a consultation.